Senior Real Estate Specialist – SRES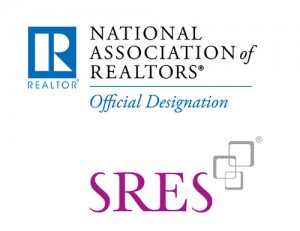 Provided here is a listing of all Real Estate Agents on Cape Cod with a SRES® Designation.  This means they have been taught insights to the unique positions the senior population often find themselves in, and ways to help best.
The realtors are not an endorsement of CCS, but merely those who have obtained that designation.
SRES® Realtors on Cape Cod
 
NAME
COMPANY
TOWN
PHONE
Louis M Basoli
SRES
Kinlin Grover Real Estate
BOURNE
20 MacArthur Blvd.
02536
508-364-1023
Colleen C Kilfoil
CRS, GREEN, GRI, ABR, SRES
A Cape House.com
BOURNE
P. O. Box 3128
02532
774-283-0546
Joseph W Hartung
ABR, SRES
oldCape Sotheby's Int'l Realty
BREWSTER
P.O. Box 2310
02631
508-237-3387
Laurel L Kauffmangri
GRI, CRS, SRES
Kinlin Grover Real Estate
BREWSTER
P.O. Box 2000
02631
508-737-9699
Deborah L Del Negro
SRES, ABR
Today Real Estate
CENTERVILLE
1533 Falmouth Rd
02632
508-790-2300
Barbara Carroll-Horne
SRES, ABR
William Raveis RE & Home Serv.
CHATHAM
37 Cross Street
02633
781-258-7316
Evelyn S Doane
SRES
William Raveis RE & Home Serv.
CHATHAM
37 Cross Street
02633
508-237-1629
Annette Alten
SRES, ABR
William Raveis RE & Home Serv.
CHATHAM
37 Cross Street
02633
508-221-8940
Aleta G Azarian
CRB, SRES, ABRM
Kinlin Grover Real Estate
CHATHAM
856 Main Street
02633
508-945-1856
Gail A Rodgers
SRES
Kinlin Grover Real Estate
CHATHAM
856 Main Street
02633
508-776-0163
John S Ciborowski
SRES
William Raveis RE & Home Serv.
EAST ORLEANS
P. O. Box 1537
02643
508-255-5100
Tara B Franklin
SRES
Kinlin Grover Real Estate
FALMOUTH
56 Scranton Ave.
02540
978-618-9314
Susan W Keleher
SRES, ABR
Kinlin Grover Real Estate
FALMOUTH
56 Scranton Ave.
02540
774-836-6006
Douglas C Azarian
ABR, SRES
Kinlin Grover Real Estate
FALMOUTH
56 Scranton Ave.
02540
508-360-4600
Bob Armour
ABR, SRES
Cape Classic Realty
FALMOUTH
205 Worcester Ct, Ste B3
02540
781-710-8721
Stacey L Rivet
SRES
William Raveis RE & Home Serv.
FALMOUTH
222 Main Street
02540
508-524-0600
Susan S Mele
SRES
Robert Paul Properties, Inc.
FALMOUTH
279 Main Street
02540
857-389-3812
Paula C Dunn
ABRM, SRES, ABR
Jack Conway & Co Inc
FALMOUTH
533 Palmer Ave.
02540
617-840-4097
Carol O'Loughlin
GRI, SRES
Jack Conway & Co Inc
FALMOUTH
533 Palmer Ave.
02540
508-360-3792
Charles E Damore
SRES
Donahue Real Estate
FALMOUTH
850 Main St
02540
508-566-6444
Charles E Damore
SRES
Donahue Real Estate
FALMOUTH
850 Main St
02540
508-566-6444
Pamela C Roberts
SRES, GRI, CRB
oldCape Sotheby's Int'l Realty
HARWICH PORT
587 Route 28
02646
508-237-0980
Adrienne G Siegel
GRI, SRES, CRB, CRS
Strawberry Hill R E
HYANNIS
340 West Main Street
02601
508-775-8000
Ann Wenzel
SRES
Strawberry Hill R E
HYANNIS
340 West Main Street
02601
508-364-8589
Jeanne Durgin
ABR, SRES
Shoreland Realty Group
HYANNIS
1220 Iyannough Rd, Ste 8
02601
508-771-2008
Susan L Chadwick
SRES, GRI
Real Estate Associates
MASHPEE
P. O. Box 1605
02649
508-274-7771
Mary C Fontenarosa
SRES
Kinlin Grover Real Estate
ORLEANS
32 Main Street
02653
508-280-8818
Lisa C Parenteau
SRES
Kinlin Grover Real Estate
OSTERVILLE
4 Wianno Ave
02655
617-797-7990
Eric A Barsness
SRES
Seaport Village RE, Osterville
OSTERVILLE
9 Parker Road
02655
508-958-6838
Donna J Schulze
ABR, SRES, ABRM, CRS, GRI
Seaside Village Properties
OSTERVILLE
23 West Bay Road
02655
508-280-8811
Thomas Mahedy
SRES, ABR
Oceanside Realty Group
OSTERVILLE
776 Main Street
02655
508-221-7911
Nancy D Komenda
SRES, CRS
Sotheby's International Realty
OSTERVILLE
851 Main Street
02655
508-428-9115
Melinda S Chapin
SRES, ABR, CRS, GRI
Sotheby's International Realty
OSTERVILLE
851 Main Street
02655
508-428-9115
Suzanne Bornemann
SRES
Kinlin Grover Real Estate
SANDWICH
121 Route 6A
02563
508-833-3333
Stephen M Whalen
SRES
Kalstar Realty Services
SANDWICH
P.O. Box 1780
02563
508-364-8737
Deborah R Kantorabr
ABR, SRES
Today Real Estate
SOUTH YARMOUTH
487 Station Ave
02664
914-715-6305
Susan Haugh
SRES, GRI
Kinlin Grover Real Estate
SOUTH YARMOUTH
1123 Route 28
02664
508-737-6140
Amy J Marseglia
SRES
Sweetbriar Realty
WELLFLEET
P.O. Box 1492
02667
508-349-0266
Deirdre A Leyden
ABR, SRES
Cape Cod Viking R.E., LLC
WEST DENNIS
242 Swan River Road
02670
508-760-1978
Michael R Leyden
ABR, SRES
Cape Cod Viking R.E., LLC
WEST DENNIS
242 Swan River Road
02670
508-760-1978
Lana G Sands
SRES
ERA Cape Real Estate, LLC
WEST DENNIS
592 Route 28
02670
508-468-0616
Theresa G Monroe
CRS, ABR, GRI, SRES
Sotheby's International Realty
WEST FALMOUTH
P.O. Box 14
02574
508-564-0222
Patricia Thatcher
ABR, SRES
Sotheby's International Realty
WEST FALMOUTH
P.O. Box 14
02574
508-524-0440
Steven Titus
SRES, ABR
Kinlin Grover Real Estate
YARMOUTH PORT
927 Route 6A
02675
508-776-6932
Senior Real Estate Specialists